A few years ago I was visiting the Museum of Contemporary Art in Chicago with a friend to see their permanent collection. I was quite taken with much of the work but she seemed a bit jaded. The stark minimalism of plain white and monochromatic canvasses left her wanting quite a bit more in terms of detail and execution. It was after seeing the kitschy Jeff Koons photos she could take no more.
"Whatever happened to art that looked like it took time to create?" she blurted.
Well my reactionary friend, that type of work is at the Art Institute of Chicago on loan from Italy. If the addition of the Modern Wing is the biggest thing to happen to the Art Institute in years, the loan of Caravaggio's The Supper at Emmaus is a compelling counterpoint. The painting, like much of Caravaggio's work is far more immediate than the dusty old masters paintings that one appreciates rather than loves.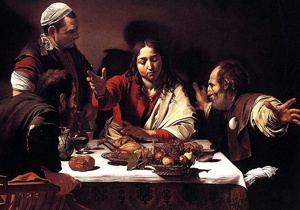 From the man abruptly rising from his chair, to the wild hand gesticulations of the man on the right, this is a painting that is kinetic while perfectly capturing a singular moment in time. I particularly like how the tray of fruit is perched ever so slightly on the edge of the table, teetering before all hell seems to break lose. It's like the opening diner scene of Tarantino's Reservoir Dogs, minus the profanity and 70s suits.
The Supper at Emmaus is on view at the Art Institute through January 31, 2010. Do yourself a kindness this holiday season and see a majestic work that will likely never be back in the states during your lifetime.