If you've ever lost yourself in the moment of staring at autumn leaves or thrown stones into Lake Michigan, caught up in the moment of interacting with nature, you have some inkling of the art of British artist Andy Goldsworthy. Andy Goldsworthy is a an artist unlike any other, although artist does not quite capture the scope of his work. Instead of clay or paint and canvas, Goldsworthy collaborates with nature, using the proverbial sticks and stones to create his pieces. With nothing more than found materials, he plays with them, building, connecting and ultimately creating stunning sculptures that can last anywhere from minutes, in the case of his ice sculpture, to years, in the case of his rock walls.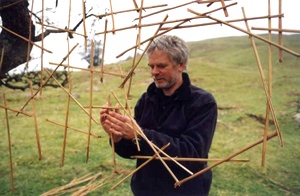 But the real subject of his artwork is time itself. Watching him work is to see someone completely lost in the moment, what Zen Buddhists strive for in sitting meditation, where there is no past or future, but the simple elegance of the present. To know that most of his constructions will be destroyed by nature itself, through wind, tide or storm, makes their beauty all the more ephemeral and poignant. Thus, the real artwork is the moment of creation itself, something you can be privileged to see in the documentary of his work, Rivers and Tides.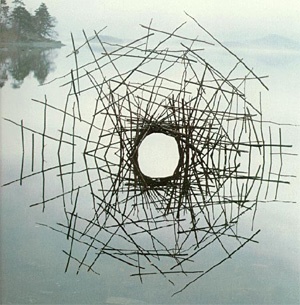 Watching Goldsworthy work is akin to staring out the window of a train, not thinking of your destination, but merely taking in the scenery of the moment, ever changing with each passing station.