When James Coburn won the Academy Award for Best Supporting Actor at the age of 70, he was noticeably moved, coming as it did at the end of a long and storied career as a Hollywood tough guy. Holding back uncharacteristic tears at the podium, he said "In this business, some work you do for the money, some you do for the love. This was for love."
That same sentiment is true with regard to our recent campaign for AIDS Foundation of Chicago for the AIDS Run & Walk Chicago. In addition to being a high profile campaign for a very worthy cause, the client has been a complete joy to work with. They are collaborative, engaged, and open to new ideas, everything we look for in a client.
We developed the theme "I live. I give. I move." This conveys the three step process of awareness, action and participation. The spectrum visually references the rainbow pride flag and provides impact to the campaign, as well as contrast to the black and white photography. The images represent a diverse group of participants, with their faces cropped out. Instead, we focused on the bodies preparing for the run, either through stretching or the act of moving.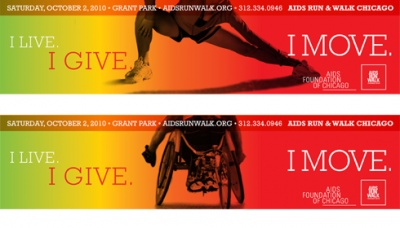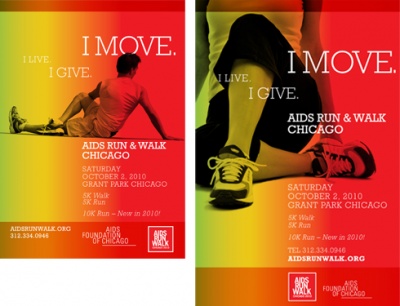 The campaign will be rolling out over the course of the summer, in posters, advertising, CTA transit banners and signage throughout Chicago. Keep an eye out for it.
Even better, get involved and sign up to participate.